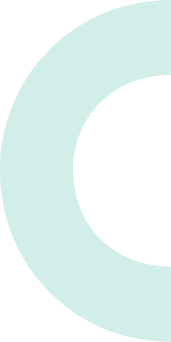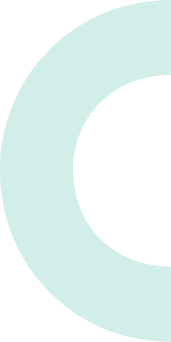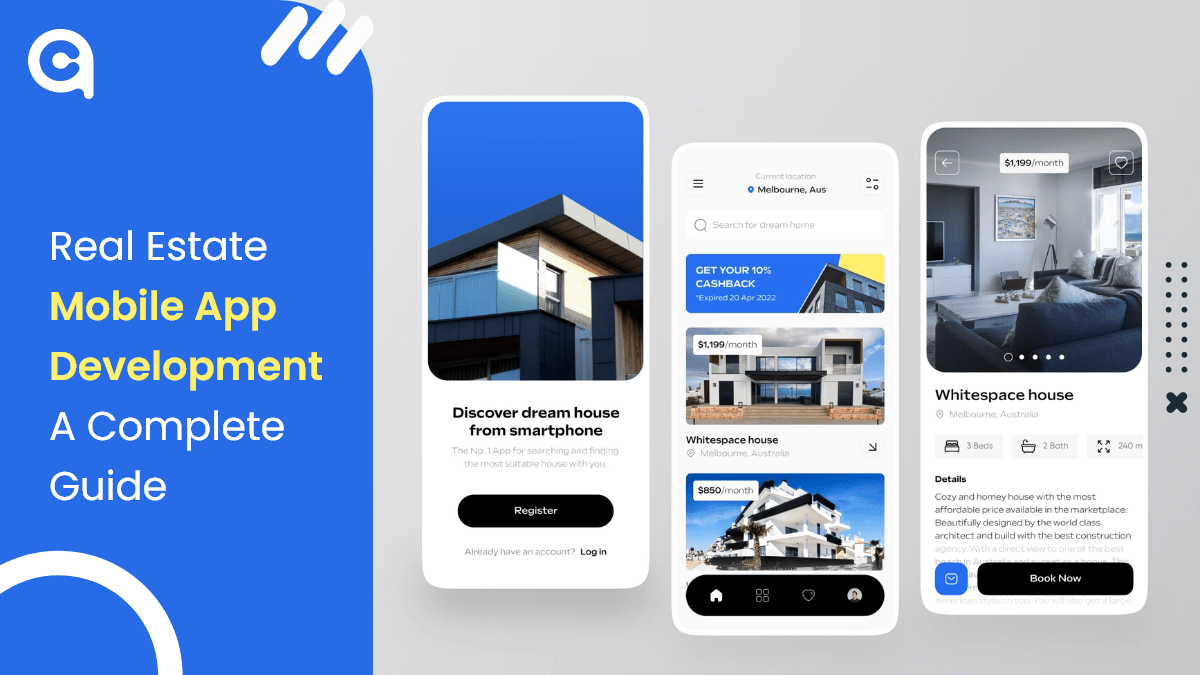 June 02, 2022 by Sakshi Aggarwal
71 Views
The world is digitizing at a very rapid pace, and in such a scenario, real estate businesses must also go digital to stay ahead of the competition. One of the best ways to digitize your business is developing a mobile app. A mobile app for your real estate business can help you generate leads, boost conversions, and improve customer satisfaction.
Real Estate Apps - Market Overview
Real estate apps are one of the hottest trends in the industry today. The global real estate apps market will be 15.8 billion in 2027. In fact, the whole mobile app market is booming, as shown in the image below.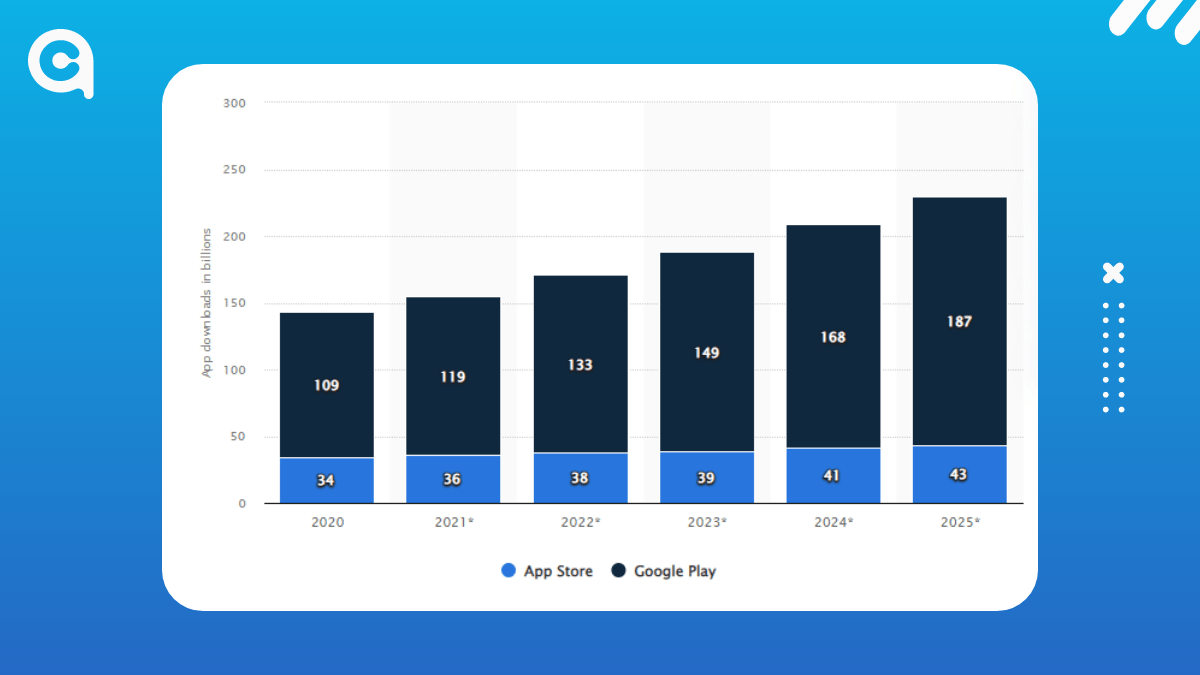 This growth is being driven by the increasing adoption of smartphones and other mobile devices, the need for a better customer experience, and the growing demand for on-the-go property search
Features and Cost of Developing a Real Estate App
Now, as you know the benefits of having a real estate app, it's time to look at the features your app must have. Let's see what functionality should be included in your application to make it successful.
1. User-Friendly Interface
The first thing any user notices in an app is its interface. It should be designed keeping in mind the user's perspective. The interface should be such that the user doesn't find it challenging to understand and use the app. All the features and options should be clearly visible and easily accessible.
2. Easy Registration and Login
Another feature that you cannot afford to ignore is the registration and login process. It should be simple and quick. Users should not have to go through a long and complicated process just to log in or register.
3. Search Functionality
The app must have search functionality that allows users to search for properties by location, price, type, etc. This will make it easier for them to find the right property.
4. Detailed Property Information
The app must provide detailed information about each property listed on it. This information should include photos, videos, price, location, amenities, etc.
5. Reviews and Ratings
Another essential feature is reviews and ratings. This will allow users to give their feedback about a particular property. This feedback can be helpful for other users who are looking for a property.
6. Contact Information
This is a must-have feature for any real estate app. Your app should provide the contact information of the real estate agent or company so that users can get in touch with them if they want to know more about a particular property.
7. Push Notifications
This is a great way to keep users updated about new listings, special offers, etc. You can send push notifications to users' devices to let them know about new properties that have been listed on the app.
8. Social Media Integration
This is a great way to promote your app and increase its reach. You can integrate the app with popular social media platforms like Facebook, Twitter, etc., so that users can share properties with their friends and family.
These are some of the essential features that your real estate app must-have. Apart from these, there are other features that you can include to make your app even more successful.
Read More: How Much Does It Cost To Build An App?
Benefits of Mobile App Development for Real Estate Business
There are numerous benefits of mobile app development for real estate businesses. Some of them are as follows:
1. Generate Leads: With a real estate mobile app, you can generate leads by providing personalized content and push notifications to potential customers.
2. Improved Customer Service: A mobile app can help you improve your customer service by providing them with a platform to easily get in touch with you and receive timely responses.
3. Increased Sales: By making it easier for customers to browse through your listings and properties, a mobile app can help increase your sales.
4. Better Branding: You can use your mobile app to improve your branding and build a stronger relationship with your customers.
5. Improved Customer Retention: A mobile app can help improve customer retention by providing them with a convenient way to keep track of their favorite properties and listings.
6. Reduced Marketing Costs: You can use your mobile app to reach out to potential customers at a lower cost than traditional marketing methods.
7. Improved Accessibility: This is another great benefit of mobile app development for real estate businesses. By making your content and listings accessible on mobile devices, you can reach a larger audience
8. Greater Flexibility: Mobile apps offer greater flexibility when it comes to design and functionality. You can tailor the app to suit your specific business needs and requirements.
What Is The Estimated Cost of Building a Real Estate App ?
The cost of developing a real estate app depends on various factors, such-
1. The features you want to include in your app.
2. The platform you want to develop your app for, i.e., Android or iOS.
3. The location of the app development company. Developers from countries like India are more economical.
4. The experience of the development team. An experienced team will obviously charge more than a less experienced team.
Assuming you want to develop a simple real estate app with basic features for Android and iOS platforms, it would cost you around $10,000 to $15,000.
If you want to include some advanced features like augmented reality, it would cost you around $20,000 to $30,000. And if you want a top-of-the-line app with all the bells and whistles, it could cost you upwards of $50,000.
How to Create a Real Estate Mobile App Like Zillow ?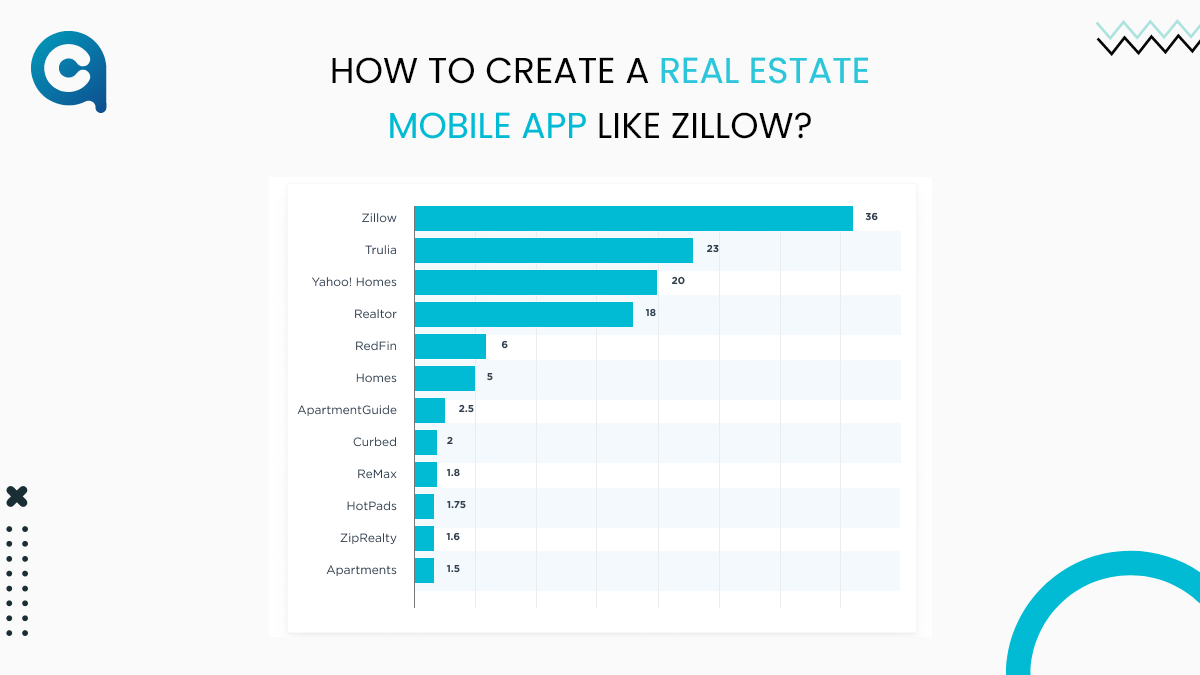 There are various steps involved in creating a real estate mobile app. Some of them are as follows
1. Choose your Platform
The first step is to choose the platform on which you want to develop your app. The two most famous platforms are – iOS and Android. You can pick the platform based on your budget and target audience.
2. Select the Features
The next step is to select the features that you want to include in your app. A few of essential features are as follows:
1. Property Search – With this feature, users can search for properties by location, price, type, etc.
2. Property Listings – This feature lets users browse through a list of properties.
3. Property Details – This feature allows users to view the details of a property like a price, location, amenities, etc.
3. Find a Development Partne
The next step is to find a development partner who can help you develop your real estate app. You can either partner with a trusted mobile app development company or hire a freelance developer.
4. Launch Your App
The last step is to launch your app on the App Store and Google Play Store.
Tips for Real Estate Mobile App Development
Here are some tips that you should keep in mind while developing a real estate mobile app:
1. Keep it simple
The first tip is to keep your app simple and user-friendly. Include only the essential features in your app. With too many features, your app will become cluttered and confusing. You can use the following tips to keep your app simple:
1. Use Whitespace- Use whitespace to break up the content and make it easier to read.
2. Use clear and concise copy- Use clear and concise copy to communicate your message effectively.
3. Use minimal design- Use a minimal design to make app look clean and clutter-free
2. Make it interactive
The second tip is to make your app interactive. Include features like property search, listings, and details in your app. These features will engage users and keep them coming back to your app.
3. Use high-quality images
The third tip is to use high-quality images in your app. People are visual creatures, and they will be more likely to use your app if it looks good.
4. Use push notifications
The fourth tip is to use push notifications to engage users. Push notifications can be used to send reminders, updates, and special offers to users.
5. Use analytics
You should use analytics to track the usage of your app. Analytics will help you understand how people are using your app and what features they are most interested in.
6. Use a beta testing platform
Before launching your app, you should test it on a beta testing platform. This will help you find any bugs or issues with your app.
7. Promote your app
You should promote your app through social media, email marketing, and paid advertising. This will help you reach a larger audience and increase downloads.
8. Offer customer support
You should offer customer support to users. This will help you build a relationship with users and keep them coming back to your app.
9. Update your app regularly
You should update your app regularly with new content and features. This will keep users engaged and coming back for more.
10. Keep your app up to date
You should keep your app up to date with the latest trends in the real estate market. This will ensure that your app is relevant and helpful to users.
Conclusion:
Real estate app development can be a great way to promote your business and reach more customers. However, it is crucial to keep in mind the cost and features of such an app. Ensure you include all the essential features in your app and choose a reputed team of real estate app development company or mobile app developers to get the best mobile app development services.
About Author
---
Leave a Reply
Your email address will not be published
DO YOU HAVE ANY PROJECT
Let's Talk About Business Solutions With Us
India Address
57A, 4th Floor, E Block, Sector 63, Noida, Uttar Pradesh 201301